Content Marketing Rockstars: Keith From Daily Vanity
In this instalment of Content Marketing Rockstars, we spoke to Keith Toh, the co-founder of Daily Vanity, Singapore's #1 beauty media. Daily Vanity produces beauty content to help readers stay informed of the latest happenings. You can look forward to beauty tips, latest discounts, genuine product reviews, and useful tutorials on the publication.
Share with us your journey towards becoming Singapore's #1 beauty media
When we started Daily Vanity, we wanted to make sure that readers can get the most relevant information and updates about beauty that serve their needs, while advertisers are able to reach out to women who invest in beauty. We combined my professional background in digital marketing, Kristen's expertise in content strategy, and our co-founder Chris's know-how in tech to create Daily Vanity in 2012. This was a time when online publications weren't as popular, print publications weren't focusing on their digital platforms and brands were just beginning to look into digital marketing.
We started Daily Vanity on a part-time basis, Kristen and I were still dating when we started the company (we've been married for more than 5 years now!). While most couples spend weekends café-hopping, Kristen and I spend our free time building and growing Daily Vanity. One month after our wedding, Kristen was diagnosed with Stage 3.5 lymphoma, which was aggressive and fast-growing.
Doctors found that the tumour was already affecting her vital organs and she had to undergo very intensive chemotherapy immediately or risk death. She subsequently had to soldier through six cycles of chemotherapy, with each session three weeks apart, and each one required her to be hooked up to the chemo-drugs for 24 hours for a week.
This was a very trying period on a personal level as well as on a business point of view. At that time, there were no employees and the co-founders were the only ones working, and on a part-time basis. I didn't want Kristen to worry about the publication while fighting for her life, so I contemplated shutting down Daily Vanity. But Kristen is a fighter with a do-or-die attitude, she believed in Daily Vanity and continued to produce great content and propel Daily Vanity from the hospital bed.
6 months later, Kristen was in remission, and I decided that it was time to go full-time with Daily Vanity. I turned 30 that year, and I told myself that it was a now-or-never thing. In 2015, I quit my job to focus on Daily Vanity full-time, without salary to see if this would work out. It was a risky move that not everyone agreed with, but I wanted to give it a chance.
Thanks to a combination of good fortune and endless hustling, we were able to convince Lancome to advertise on Daily Vanity in mid-2015. Lancome loved the results we generated for them and they gave us multiple opportunities thereafter.
In 2018, we moved into a 2,400-sqft space, which includes a studio for photography and filming! We now have 14 people in the team and are still looking to expand it further in 2020 to meet our growing business needs.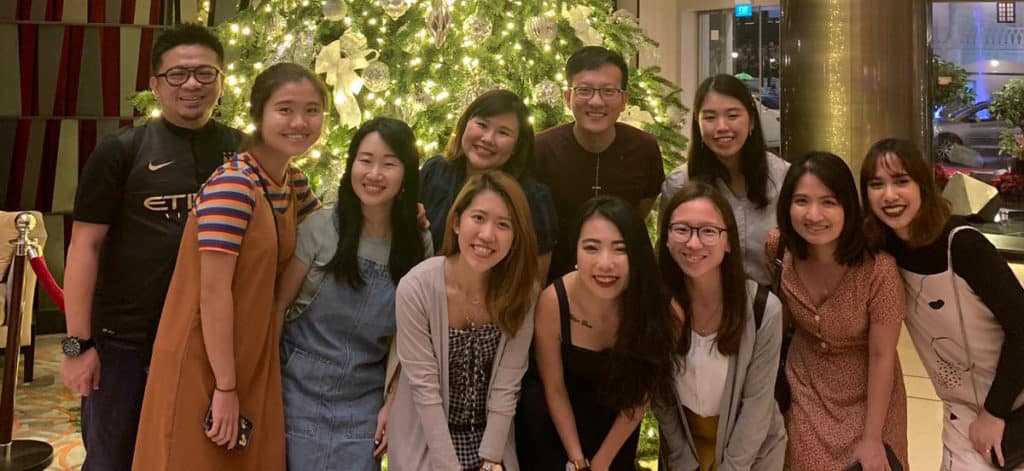 Seeing the downsizing major restructuring and closure of media powerhouses & publishers, what motivates you guys to push forward?
Being in a niche space and years of brand building has allowed us to build a competitive moat and we were humbled by the positive feedback our readers have showered us. This kept us pushing forward knowing that the content we created has impacted the lives of many.
Beyond dollars and cents, we used our platform to highlight beauty beyond what's dictated by social norms and help our readers become more empathetic and appreciative to other forms of beauty.

Beyond Skin Deep: A YouTube series by Daily Vanity that highlights beauty beyond what's dictated by social norms
Being in the publishing business requires a lot of inspiration, how do you guys stay inspired?
The basis will always be to think from our readers' point of view – what would they like to know? What would beauty newbies like to know? What would beauty junkies like to know? We put ourselves in our target audience's shoes vs. creating content we like. We also have a keen eye on trends, by observing industry movements in other markets and speaking with industry experts.
What insights would you give to businesses that are starting up or have been struggling with content marketing?
The challenge marketers have is they always think of headlines from their own perspective instead of their readers'. Think in your readers' perspective and avoid being clickbaity.
Once you have solved these, the next important thing is to promote your content through paid advertising (e.g. Facebook and Instagram). Even with good content, you can't assume that you'd be able to magically receive the reach you want. Struggling/new businesses can certainly do with a bit of push and thankfully there are easy avenues for it these days.
What do you think is the future of content marketing?
Probably in this order of things: The rise of TikTok, AR, VR, then Voice. Tech publications are heralding the rise of voice search because of Google Home and Alexa, but I think it will still take some time for Singaporeans – especially when AI cannot fully understand our accent and diction yet, thus we'll place it last.
TikTok's a new form of content marketing where the content is a templated action/dance video that seeks to entertain in a short few seconds. It's a strong challenge against the reign of Instagram with many teens preferring TikTok. The type of content is catchier, trendy, and so short that it's perfect for the attention-deficient generation.
AR and VR have been discussed extensively for years but it still requires more time to be developed.  Like QR code which only gained popularity recently, we could still see the hockey stick effect we've been waiting for.
Give us an elevator pitch of your business.
Daily Vanity is Singapore's #1 beauty media in terms of web traffic. Our customised marketing funnel objectives-based ad solutions will help you reach out to key opinion consumers and beauty beginners.
How can people connect with Daily Vanity?
Drop us a message here!