WeChat for Business: 7 Things to Consider
Previously, we talked about the importance of WeChat in China. Today, we'll zoom in on some vital information to take note of if you are considering WeChat for business purposes.
1. Official Account: Service vs. Subscription accounts
To start off, you'll need to create an Official Account, and unlike Facebook and Twitter where you can easily create a free account by yourself, there's an application & verification process involved which takes up to 7 working days for approval. You'll also need to choose between a Service or Subscription account.

Service account (only available in china)
If your brand is more product-centric, i.e. you are setting up an account with an objective to drive product sales, then Service Account is the way to go. A service account consists of business services such as mobile payments and other features such as user management capabilities.
Subscription account
If your objective is towards driving brand awareness and less of selling, then you should be looking at a subscription account. A subscription account is very basic as compared to the Service account. With a subscription account, you can use it to post content and engage your followers.
Note: Unlike Facebook/Twitter where fans/followers can view your post on their timeline/news feed, WeChat houses all subscription accounts within a tab on the user's home screen where users can actively choose to view the content. Thus the challenge is for brands to create content that is enticing enough for users to keep checking back proactively.
For more detailed information, you can visit WeChat's Admin page
2. Use of mini sites as an alternative to websites
With China's ultra-strict internet censorship policy, it is highly possible that your website will either be blocked by the great firewall of China or, browsing speed is much slower due to the firewall. Thus the only way to circumvent these issues would be to build a localised website within China, but that process would require a lengthy application process.
In this case, it would be ideal to set up a mini-site on WeChat itself, enabling users to access your company's information as well as directing customers to content you've shared on WeChat.
3. Broadcasting updates with WeChat
Similar to Facebook/Twitter, brands can post updates such as articles, videos or photos to their followers. However, there's a limit to the number of updates an official account can post.
Subscription Account: Once a day
Service Account: 4 every month
4. WeChat Advertising
Like most popular social media networks, paid media is the most effective way to reach out to a substantial audience on WeChat. Here are its advertising options:
a. WeChat Moments
Similar to Facebook's sponsored stories where an advertisement appears on a user's Moments
b. WeChat Banner
Banner ads will be featured within the article of a public account (Accounts of famous brands or celebrity)
c. How to start advertising with WeChat?
Unlike Facebook and Twitter where you can immediately key in your credit card details and start advertising, you'll first need to get in touch with a representative from Tencent, and there's a minimal investment of US$20K to get started.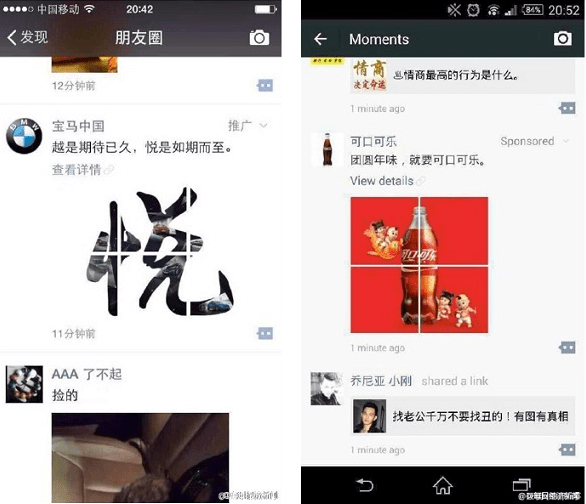 5. Engaging KOLs
One of the fastest ways to gain traction for your brand would be through Key Opinion Leaders (KOLs) or Influencers. For this, you can either pay the influencers a fee to post a sponsored update or offer some form of barter trade.
Note: As WeChat does not reveal follower figures publicly, the only way to know the number of fans an influencer has is through back-end screen grabs (can be faked) thus you'll need to be very careful when it comes to engaging such influencers.
To find out how to engage a KOL, check out this article.
6. WeChat's Developer API
People in China use WeChat for just about anything from booking cabs to buying a cinema ticket, all these are made possible because of WeChat's Developer API which developers can use to develop useful mobile applications within the WeChat platform.
7. Integrated Ecosystem for QR Codes
QR codes have failed to take off in most parts of the world; try running a QR code led activation in Singapore, and you will most probably meet people who are either clueless on how to scan the QR code or don't have a QR code scanner. For most parts, people here don't even bother with it.
However things are different in China, due to WeChat's integrated ecosystem, it can ensure an optimal user experience when it comes to QR codes and because of that, people in China actually like scanning QR codes. Brands on WeChat can display QR codes at specific locations to increase their following and offer deals and discounts to their customers. It is also a norm for business people in China to include a QR code on their name card which leads to their WeChat account, so that is something you could consider too!