The Beginner's Guide to the Conversion Funnel
In order to achieve successful online conversions, brands must first have a good understanding of the conversion funnel which helps to determine and pinpoint areas of improvement in different stages of the customer's journey.
The stages in the conversion funnel are as follows:
1. Awareness Phase
2. Interest Phase
3. The Consideration Phase
4. The Action Phase where the conversion happens
5. The Leads Nurturing Phase to develop relationships with prospects who are not ready to buy
To better understand this, let's use an example of an airline running a promotion on Facebook to explain the various stages of the conversion funnel.
Awareness Phase
The first stage of the funnel would be the awareness phase, this is when the airline first posts a Link Ad on Facebook with the objective of driving sales to their promotion. During this phase, the Facebook ad garnered a reach of 10K consumers.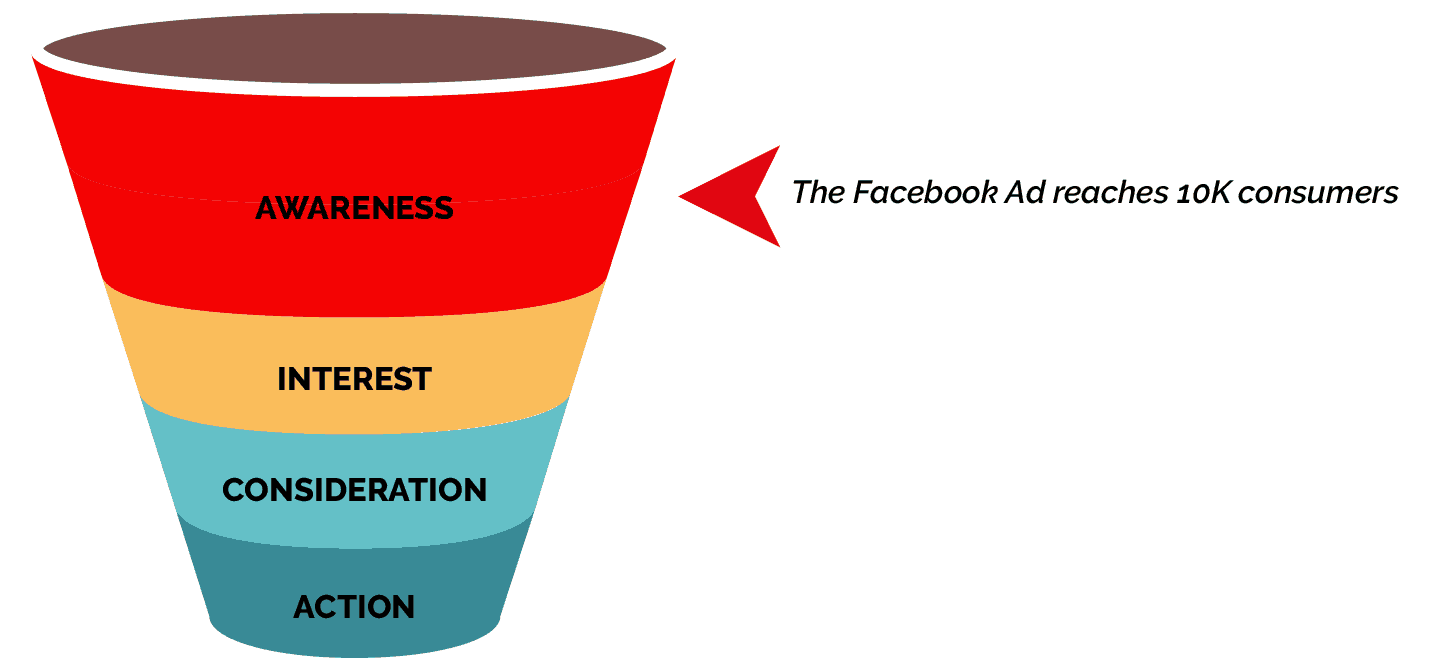 Interest Phase
Moving on, we come to the interest phase. Among the 10K consumers who saw the ads, 3K people engaged with the post via likes, reactions, shares and viewed the ad. At this phase, we have 3K consumers who have shown interest.
Consideration Phase
Even when consumers show interest by engaging with the post, that does not mean they have the intent to purchase. So a sign of intent is when they actually click on the ad and direct themselves to the landing page. Out of the 3K people that engaged with the post, 1.5K clicked and visited the landing page, meaning these 1.5K consumers are considering a purchase decision.
Action Phase
This is where the consumers actually make a purchase. So among the 1.5K people who ended up on the landing page, only 500 people decided to purchase the air tickets. So in relation to the whole funnel, only 500 out of 10K who were exposed to the Facebook ad are conversions. The final conversion rate would be calculated at 5%. (500/10,000 *100)
Lead Nurturing Phase
The funnel process does not end at the action phase, over here we look back at the consumers in the consideration phase. Previously, 1K consumers did not go on to make a purchase. That could be due to various reasons like being unable to make a financial commitment or because the consumer wants to take a longer time to make a purchasing decision.
From a brand's perspective, it is important that they put in measures to increase the chances of a consumer coming back to make a purchase; in order to do that, the leads will need to be nurtured. There are various ways to nurture a lead. Let's look at some of these ways in detail.
Remarketing
Remarketing is a technology that allow brands to position targeted ads in front of a defined audience that had previously visited your website. When a consumer visits the landing page without making the purchase, remarking will allow brands to target those consumers again via personalised ads on Facebook as well as popular websites.
To experience Remarketing in action, simply visit shopping sites like Lazada and RedMart and click on a product. You may have noticed that even after exiting the site, items that you have viewed continue to appear everywhere you go in cyberspace, be it on social media or your favourite websites.
Cart Abandonment Emails
This method applies to situations where customers added products to the shopping cart but never checked out, meaning they dropped out of the conversion funnel at the very last moment.
An effective recovery method would be the use of Cart Abandonment Emails, this is where a personalised email is triggered to entice or remind the consumer to return and complete their purchase decision. To increase the chances of conversion, a good practice would be to include additional discounts or perks to further entice the prospect.
Availability of personalised 1-1 Communication
During the consideration stage, consumers might need some enquiries answered before they make their final purchase decision, so it is very important for brands to make themselves available for the consumers be it on their website or via social media platforms. A good example would be Zappos, where they have made their LIVE chat widget and 24/7 helpline highly visible on every single page of their e-commerce website. Implementing a Chatbot is also a good way to facilitate 1-1 communication.
Customer Retention
Last but certainly not least would be the Customer Retention Phase. According to research, it can cost a brand up to 5x as much to get new customers vs. keeping old ones. Thus after the customer's first purchase, it is important for brands to continue the relationship with the customer. Approaches can range from giving your loyal customers exclusive perks to consistently providing them with valuable and engaging content.